Still working at the dining room table? Here are 7 tips to maximize your home workspace
Despite the COVID-19 pandemic starting to wind down in several places around the globe, the return to "normal" is slow going and for some, normal looks very different from before. The corporate office won't be the same following the pandemic and we imagine lots of people will opt to work from home permanently or adopt a hybrid work schedule.
Because of the sudden shift to working from home, many of us likely started working right from the dining room table or couch – but if you're working from home or opting for a hybrid schedule it may be time to rethink your home workspace, especially if the situation isn't "temporary" anymore.
Finding the right setup is important because more often than not, the space we designate as an office in our home will actually serve multiple purposes, and the right setup will increase productivity. If you are working from home, this is where you will spend most of your day. If you work outside your home, the home office space might be where you organize paperwork, pay bills, and check emails. For kids, the home workspace may be where they do homework or even access parents for help. And on the weekends or on off-time, the same workspace may serve as a craft room for sewing machines or paint supplies. If your home workspace isn't just an office, it's time to figure out what works best for you and your family.
The Space and its Layout
If your workspace feels a little stale, it might be time to rearrange the furniture. Take a look at where your desk is located and consider moving it to a new position in the room and giving yourself a different view from your desk. Is there other furniture? Multiple seats? Using all of your furniture pieces, lighting, and even room dividers to segment the space you have for specific uses. Taking the time to rearrange your current furnishings into a layout that is both functional and pleasing can make a huge difference in your workday.
Moving from the dining room and to a functional corner or closet of the home will create a separate workspace, which is critical in balancing your work and home life. Any corner in your home can be turned into a cool home workspace. It's one trend of the pandemic that is still catching on everywhere. Some have turned a bedroom corner or kitchen corner into their dedicated office space, or small niches in hallways and mudrooms. It's all about getting creative with the space you have – organizing and arranging the furnishings, lighting, and more to create the space that will work best for you.
The Desk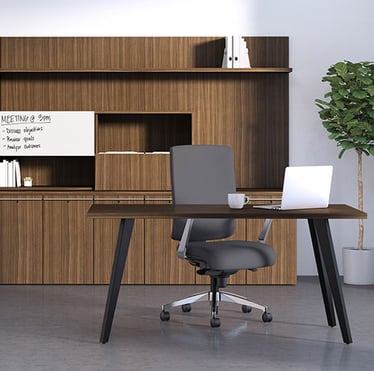 The desk is the focal point in a typical home office. Finding the right size and shape, not just for your workspace but for your needs, is important. The beauty of desks (and tables) is that they are available in endless styles and sizes, so it's possible to select one that checks all the boxes: fits the floor space, accommodates your workload, and fits your personal preferences. For example, nestling an L-shaped desk in a corner can provide two workstations, one for your laptop and another for paperwork. Finding the perfect desk configuration creates the opportunity for maximizing your space and productivity. And if you have the extra space, fitting a second table in your office means more space for other projects and work, co-workers, and more.
What are you sitting on? A dining chair or even a well-upholstered side chair isn't very supportive for long-term use These kinds of seats are only meant to provide comfort for a couple of hours. They aren't contoured to your body in a way that's appropriate for working at a desk in front of a computer all day. The ideal work chair should support your back and be generally comfortable to sit in for hours at a time. The best work chair is ergonomic, adjustable in height, lumbar, and has armrests. Ergonomic chairs also allow for independent movement of the backrest and seat. It's not impossible to find a functional and stylish chair, which would be a wise upgrade if you're going to be working from home or hybrid working for the foreseeable future.
Maximize Wall Space with Storage
If you're not working with a ton of physical space, it may be time to take advantage of your room's available vertical space. The right shelf and storage solution can do wonders to reduce your footprint and provide ample storage and display space for your office essentials. Finding the right shelving can also help to declutter what's on your desk and around your workspace, which can help to declutter your mind. Create a space that you enjoy occupying by finding a way to artfully arrange books, awards, framed photos, small electronics, and other personal and work-related items that could bring joy to your workday.
For small spaces, avoid large and cumbersome cabinets or cases and opt for wall shelves instead. Get more use out of the shelves with baskets and boxes, and don't be afraid to embrace wall racks and hooks. Don't let your wall space in your home office go to waste, especially if you need to bring items from your office home with you.
Tech and Wire Control
Nothing slows down your productivity more than getting wrapped up in a tangle of electrical cords and wires. Going completely wireless is yet to be a reality, everything seems to have one – your computer, printer, and phone charger. It's impossible to get rid of all cords, though you can minimize the number by going as wireless where possible. Look to a wireless mouse and keyboard, or Bluetooth-enabled speakers, headphones, and printers.
If wireless isn't an option, finding an electrical cord management system, including cable clips, cord organizers, zip ties, and more can clear up your workspace and keep the tangles to a minimum. Just make sure you've labeled all your cords and cable sleeves, so you know what's plugged in and wired where.
Change up the Color
One way to refresh your space is to refresh the color, whether that's the walls or the chair, or any other item in the workspace. Finding colors that can open up your space and make it feel larger than it is, which is very helpful and can aid in inspiration. Consider adding accent colors that are bright and interesting, such as yellow and orange, which can even stimulate energetic feelings. There is a balance to be found between neutral colors that can calm the mind, while also being easy on the easy and bright colors which can often make people happy and ready to work. So it's important to figure out what you need in your workspace and choose a color scheme that fits your needs and personal style.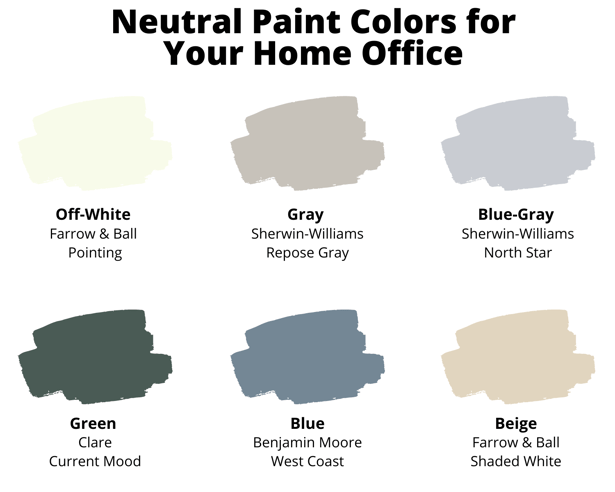 Add Some Greenery
Another way to really maximize your home workspace is to add an office plant, the addition of greenery in your workspace can increase your productivity. In a 2014 study of the long-term effects of office plants, researchers found that plants in the office increased workplace satisfaction in employees, heightened self-reported concentration levels, and improved the perceived air quality. The researchers found a clear ROI: employees were significantly more productive when surrounded by plants. With that in mind, adding plants to your home workspace sounds like a no-brainer.
Plants can be natural stress relievers and can help reset attention capacities. Studies have shown that natural environments evoke in humans a different response than urban environments – naturalscapes give us a sense of being away, feeling relaxed, and tranquil. Indoors plants have repeatedly been linked to stress reduction and pain tolerance. Even researchers from the University of Michigan suggest that plants and natural environments are filled with intriguing stimuli that can replenish focus. Something as simple as looking at pictures of nature can make a difference, so imagine what a couple of house plants might do?
Final Thoughts
At the end of the day, a home office isn't just a place to get things done – it's often a reflection of who you are, your style, and your workspace should allow you to be your best, most productive self. Different people have different needs for a home office, whatever your career should require, you should have a space that helps you meet all those needs moving forward. Take the time to turn your temporary setup into a long-term workspace that you'll be happy to spend the workday in.
If you need help creating the perfect workspace, let's connect! Here at Kentwood Office, we focus on the customer experience and our team of experienced professionals can help you find the right design solutions. Our team will listen to your vision and create aesthetically beautiful work environments that will suit your needs and fit your budget.