Case Study: Finding "wow-factor" for GRAM
Workspace Design & Specification, Project Management, and Delivery & Installation

Kentwood Office Furniture's long-standing relationship with Grand River Aseptic Manufacturing was the perfect foundation for working together on the design and furnishing project of their new finishing building in Grand Rapids. GRAM envisioned an office space that had a "wow-factor" but still felt familiar to their employees. We were able to deliver.
The Client
Grand River Aseptic Manufacturing (GRAM) is an injectable manufacturing company with more than a decade of pharmaceutical experience. They specialize in biologics (microorganisms) and small molecules, delivering high-quality services for clinical and commercial products. Last year, GRAM was contracted to support the production of the Johnson & Johnson COVID-19 vaccine.
In the spring of 2021, GRAM opened a brand new 110,000-square-foot finishing center on Patterson Avenue SE, near the Gerald R. Ford International Airport, and needed furnishing solutions for their offices and workspaces.
Kentwood Office Furniture (KOF) has a longstanding relationship with GRAM after working together on numerous past projects. As GRAM considered its vision for the Patterson building, it was clear that we would be the right fit for the furnishings design and installation.
The Vision
GRAM leadership made it clear they wanted similar elements to another facility KOF had previously helped with located near downtown Grand Rapids. The goal was to create consistency between all locations, while also bringing a "wow-factor" to the new space through a number of dramatic pieces.
The Plan
To turn the plan into reality, Kentwood Office Furniture had a team working directly with an independent designer at Visser to help create the space GRAM was envisioning. After the collaboration phase, the KOF team presented the furniture portion of the design plan to the company's leadership and worked with their team to fine-tune details to make sure all needs were met.
Next, we worked with GRAM and their independent design professional on finishes and fabrics for the carpet, paint, interior furnishings including ceiling-mounted acoustical products. This was a two-hour-long working session, but due to our strong partnership with GRAM and the collaborative efforts between the three organizations, it was a smooth process. We knew what GRAM needed and could provide options that suited their unique needs.
"We delivered on the element of teamwork – we worked very well together to bring the vision to life," said Sarah Ochsner, KOF Account Manager.
The Challenge
During the installation of the workstations, GRAM walked through the space and decided upon seeing it in person to open up an area where workstations were planned. Because we only had the "skeleton" of the workstations installed, we were able to move them easily to another section of the open office. We were making changes on the fly, but our installation team, MR Services and Handling, is consistently dependable and will go above and beyond for project satisfaction. Based on timing and where we were in the project, our expert installation team, and constant communication with GRAM, we were able to come to a solution – even if we weren't necessarily anticipating the changes.
There weren't any other roadblocks that we faced during this particular project for GRAM. We made sure that we had the flexibility to tweak aspects of the project and find solutions that led to turning GRAM's vision into a reality.
The Results
In the end, this project was roughly 3-5 months to complete and based on feedback from GRAM – Kentwood Office Furniture delivered. As the company prepared to expand, they wanted to elevate an experience in their physical space and through the combined efforts and expertise of our internal team and an independent designer, we were able to bring the "wow-factor" to the forefront of the design.
"The Patterson project really allowed KOF to shine with a combination of open office, private office, conference, break room, and collaborative space," said Cliff Muller, Director of Facilities & Engineering at GRAM. "Having worked with GRAM on previous projects, it was neat to see how well KOF worked with the project's interior designer to come up with a cohesive design strategy between architectural finishes and furniture to create a beautiful environment for our staff to work in. Because KOF was so in tune with our standards from previous projects, their initial proposal was almost universally accepted without significant changes."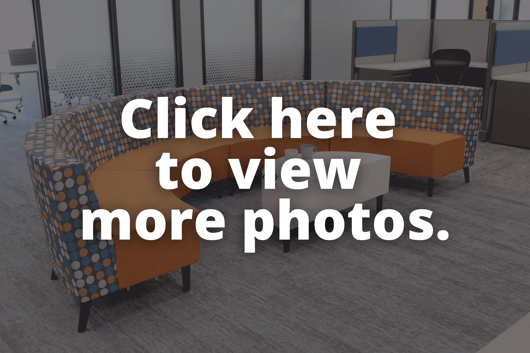 Quick Facts
Location: Grand Rapids, MI

Size: 110,000 sq. ft.

Products:
AIS Laptop Table
AIS LB Lounge
AMQ Hanging Acoustical Panels
FireKing Fire-Resistant Storage
Global Accord Seating
Global River Lounge
Global OTG Modular Ottomans
HON Ignition 2.0 and HVL712 Desk Seating
HON Ignition Guest Seating
HON Astir Lounge
HON Mav Lounge
HON Motivate Stool and Stack Chairs
HON Birk Tables
KOF EKOS Systems Furniture
KOF BAT Tables
KOF Slim Tables
National Waveworks Casegoods
National Reno Lounge
SitOnIt Lumin Task Stools
Watson Etch Mobile Markerboard