Meet One of Our Employee Owners: Gregg Poppema
Here at Kentwood Office Furniture, we are dedicated to not only serving our customers but helping our communities and highlighting the employee-owners that make us who we are.
Later this year, one of our most senior employee-owners will celebrate 35 years with Kentwood Office Furniture and we wanted to share a little bit about his story, why he's stuck around, and what his legacy entails.
Gregg Poppema is the warehouse manager here at Kentwood Office Furniture. If you walk the aisles and stop at any desk or workstation, everyone will not only know Gregg but have nothing but good things to say about him. When someone has an issue they need help with, they go to Gregg. When someone has a question they need answering, they go to Gregg. He never says no to a favor.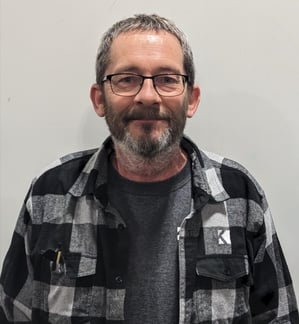 Gregg has not only been managing the warehouse for several years, he's been running the show. He's the go-to guy in the warehouse. He knows our inventory inside and out, has the operations for the cleaning and repairs department down to a science, and oversees shipping and receiving. Gregg's entire team has been working with him for several years and at this point, they've become a close-knit family.
But that's not the only family that Gregg has at Kentwood Office Furniture. His father worked for the company for over 20 years and Gregg met his wife Tiffany here as well. Even two of Gregg's children work for Kentwood Office Furniture – it's truly a family affair!
When asked why he and his family have stuck with Kentwood for so long, he clasped his hands and said "Kentwood takes care of my family and they care about what we do – they support us."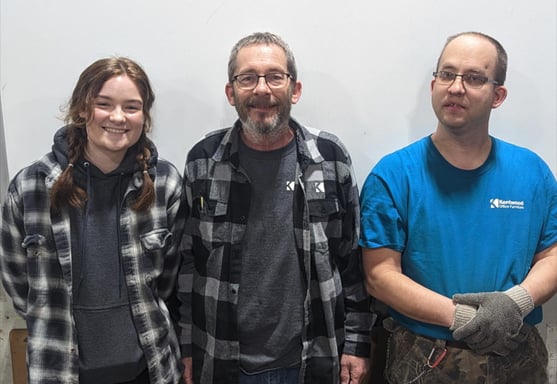 Over the years, it's become clear to Gregg and his team that Kentwood is a special place and it's because they make it so. "We've tried to have fun over the years, and it's not always easy," he explained. "But that's what makes the job so special, knowing you've got a team of people trying their best."
Because he's been with our company for so long and knows so much, Gregg has a wealth of knowledge. His role has evolved significantly over the years. Gregg started in paint and progressed through several different departments, learning all along the way. He is a huge part of this company and when employees want to learn and progress in their careers, Gregg is there to lead by example. He continuously sets up new hires for a great start to long-term careers with our company.
That's the culture here at Kentwood Office Furniture. There's a sense of longevity here, a sense of respect, and care for one another — whether it's on or off the clock. No matter what you need, Gregg is one person that will always help you. His dedication extends beyond punching the clock each day, he cares about our customer satisfaction and does whatever he needs to do to guarantee that.
We cannot thank Gregg enough for all the years of hard work and dedication to our employee-owned company. It has been an honor to work with Gregg and his family all these years and we look forward to what his legacy will bring.