The History of EKOS: From Used Furniture to the Future of Remanufacturing
Sustainability was once considered a lofty goal for only the most progressive companies. Now, it has become an important topic across several industries, especially furniture manufacturing. In the last decade, consumer attitudes towards sustainability have shifted dramatically (McKinsey). Close to 10 million tons of furniture and furnishings are sent to landfills per year, according to the EPA. A large majority of these products are unnecessarily thrown out which is why businesses are turning to remanufactured products to save energy, time, and money for themselves and their customers. Simply put, remanufactured furniture (also known as reman) takes the core components of used furniture and repurposes them into brand new products. Learn more about the difference between refurbished and remanufactured in our previous blog. As part of the sustainability movement, Kentwood Office Furniture offers a dedicated remanufactured product line named Evolved Kentwood Office Solutions, or EKOS.
For over 40 years, Kentwood Office Furniture has been a recognized leader in the remanufacturing industry. Kentwood's remanufacturing process has been streamlined to deliver the highest quality products and conserves more energy and natural resources over newly manufactured products by 95%. In this blog, learn more about the history of the Evolved Kentwood Office Solutions (EKOS) line and how it has changed the way Kentwood does business.
Used Furniture Paved the Way
Kentwood Office Furniture was founded in 1976 and was originally a used furniture dealer. At the time, used furniture was procured from larger vendors that wanted to avoid the offloading or disposal process. Sometimes, Kentwood was even paid to remove furniture pieces. This is how the company was able to build up inventory, which was important for early success. Even more so in today's supply chain, having stock on hand when the customer needs it is an often overlooked ingredient that has always been a key differentiator.
It was also imperative for used furniture dealers to have longstanding relationships with big vendors in order to obtain products. Without the relationships or connections, it was hard to gather the inventory. In the 90s, Kentwood Office Furniture grew exponentially after Art Hasse bought the company. Hasse came to Kentwood with several connections to Herman Miller and the broader furniture manufacturing industry. This was also a time for Kentwood to expand on the products and services being offered, such as remanufactured systems
In the 1960s and 70s, Herman Miller conceptualized some of the first cubicles, but by the 90s some of the patents on the cubicle systems came to an end. This spurred a shift in the furniture manufacturing industry. Manufacturers could begin cloning parts of the cubicle and paneling in Herman Miller's system. This may sound like a negative outcome, however, the shift legitimized the remanufacturing process in a way that had never been done before and allowed companies like Kentwood Office to expand on services and solutions already offered.

►More Reading: Refurbished, Remanufactured, or New: What furniture should you choose for your business?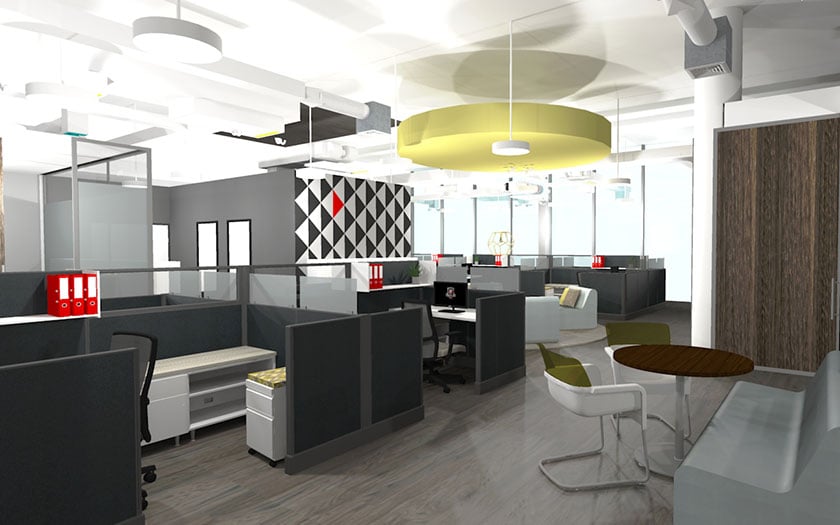 A Shift in Reman Products
For about 30 years, Kentwood continued to evolve the way its products, specifically the Herman Miller AO2 panels, were remanufactured, as well as becoming a leading new and used furniture dealer. Then in 2010, Kentwood Office Furniture created a "Fundamentals" program, which allowed for a standard collection of finishes that helped customers better choose what they wanted at a cost-effective price point. Kentwood even incorporated some upgrades that were not being offered by competitors in order to position the company as the best remanufacturer in the market.
In 2014, Kentwood purchased a wood manufacturing company which marked a pivotal moment for Kentwood and for the state of our remanufactured product line. Prior to this, Kentwood worked with a third-party wood manufacturer to make work surfaces. However, it became increasingly clear that no one else would be able to keep up with Kentwood's short lead times or pricing — which prompted the major purchase. With a larger skillset under one roof, the ability to offer new product lines and more customization quickly exploded.
The Introduction of EKOS
In 2015, Kentwood Office's current president Bob Von Kaenel joined the company from Herman Miller. Von Kaenel brought a fresh set of eyes and perspective to Kentwood. He immediately recognized the potential of the remanufactured products and started an initiative to grow the line. Von Kaenel pulled together a team with the goal of selling more of Kentwood's internally-made products to better meet lead times and reduce costs for customers and manufacturing. At the time, they were called "remanufactured systems" but after the evolution of our product line and a desire to take Kentwood to new heights, the line was renamed and repositioned. This is how EKOS, which stands for Evolved Kentwood Office Solutions, came to be.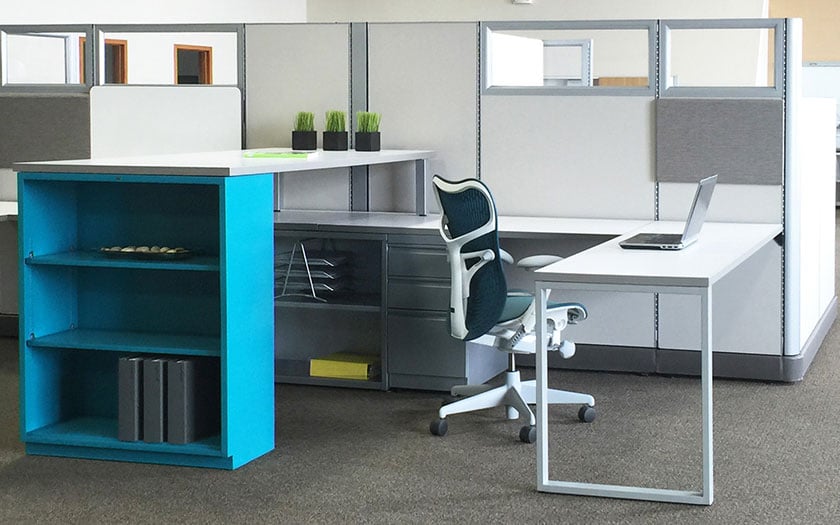 The 2010s saw a huge boom in green initiatives across several industries. Kentwood was at an advantage because the very nature of the EKOS line is sustainable, and the company was operating on greener efforts well before it was trendy. By remanufacturing just 1 workstation, Kentwood diverts almost 1,000 pounds of waste from a landfill.

Expanding the EKOS Brand
As the EKOS line continued to take shape, the company created its own specification catalog with updated prices and listings. In 2017, Kentwood made strides to show customers that the company stood behind its own product line. Around this time, the company adopted a limited lifetime warranty on the EKOS line.
Two years later, in 2019, Kentwood officially launched EKOS LT, a second product line under the EKOS brand. This was another pivotal moment for the company and the EKOS brand overall. The appearance of the remanufactured panels was significantly updated to reflect a much more modern look. This new product line became very popular as more businesses and organizations wanted to adopt more modern designs in their offices.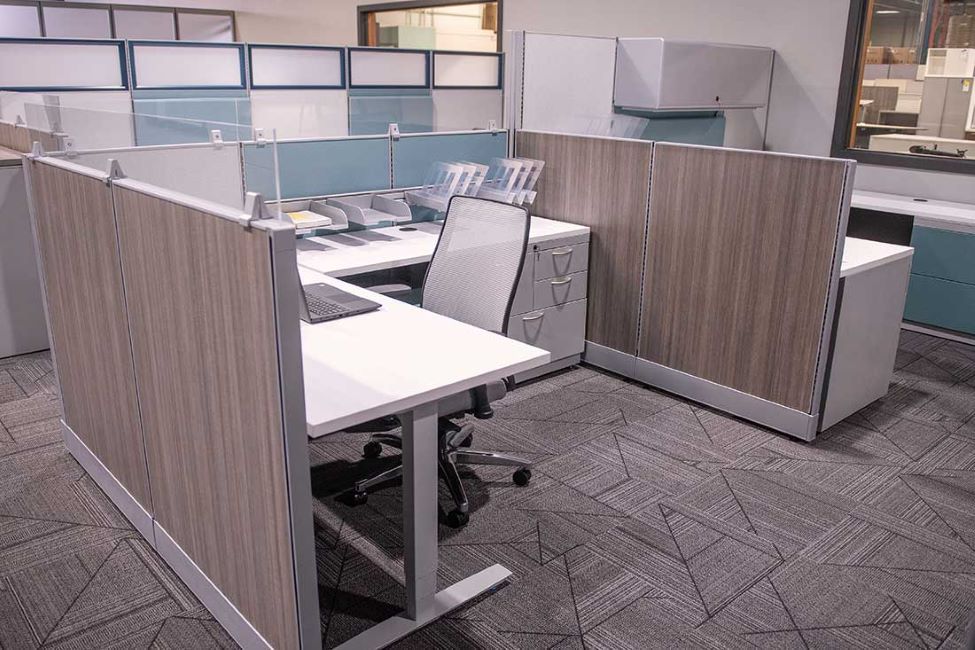 In 2020, the COVID-19 pandemic resulted in a large majority of the working population shifting to working from home or a hybrid working environment. Kentwood adapted to the needs of its customers. The company understood that when people did return to the office, they would need systems in place for safety which prompted Kentwood to manufacture different kinds of solutions including moveable walls and acrylics screens to divide space.
Around this time, Kentwood revisited the EKOS brand and its finishes. The company created a list of standard finishes that leaned itself to four different price levels for finishes, fabrics, and laminates which ensured Kentwood Office Furniture customers were able to design the spaces they needed in a very cost-effective way.
The Future of EKOS
As the demand for sustainable products increases across a variety of fields, every industry must adapt to meet the need. The furniture industry is no different. Whether for home, office, or entertainment venue — sustainable options are sought. Other furniture manufacturers may need to adapt their business models, but Kentwood Office Furniture's remanufacturing process will continue to stand the test of time. The very nature of the EKOS line — remanufacturing the walls of a workspace system — minimizes a huge portion of the environmental impact of furnishing a new office space. Even as the company looks to create new ways to modernize the EKOS line by adding technology and following the shift in office design trends, Kentwood will be a sustainable option. The main goal is to continue to be a price, quality, and lead time competitive furniture manufacturer.