Refurbished, Remanufactured, or New: What furniture should you choose for your business?
Furnishing an office is one of the many challenges a business will face. Wear and tear, constantly changing design trends, and expanding needs can put a major crimp in a company's budget for office furnishings, and can impact employee morale and productivity– especially when job satisfaction is so closely tied to the work environment. Whether you're in the market to replace a few pieces or complete an entire redesign, it makes economic sense to consider all your options, weigh the pros and cons, and make the best decision based on your needs.
What's the difference between "Refurbished" and "Remanufactured" office furniture?
In the context of the furniture industry, the terms refurbished and remanufactured can be cause for confusion. Unfortunately, there are no set standards for these types of service offerings, with some less reputable companies using these words interchangeably. Here at Kentwood Office Furniture, the terms refurbished and remanufactured have drastically different meanings.

If we look at the definition of both terms in the dictionary, this is what can be found:

Refurbish: renovate and redecorate (something, especially a building).
Remanufacture: to manufacture into a new product

When refurbishing office furniture, we do everything we can to refresh the furniture piece. Whether that means deep cleaning the fabric of an office chair, touching up the paint on cubicle panels, or restitching the seams of a cushion that's seen better days. In other words, a refurbished item will still be the same product you gave us but will have undergone some upgrades.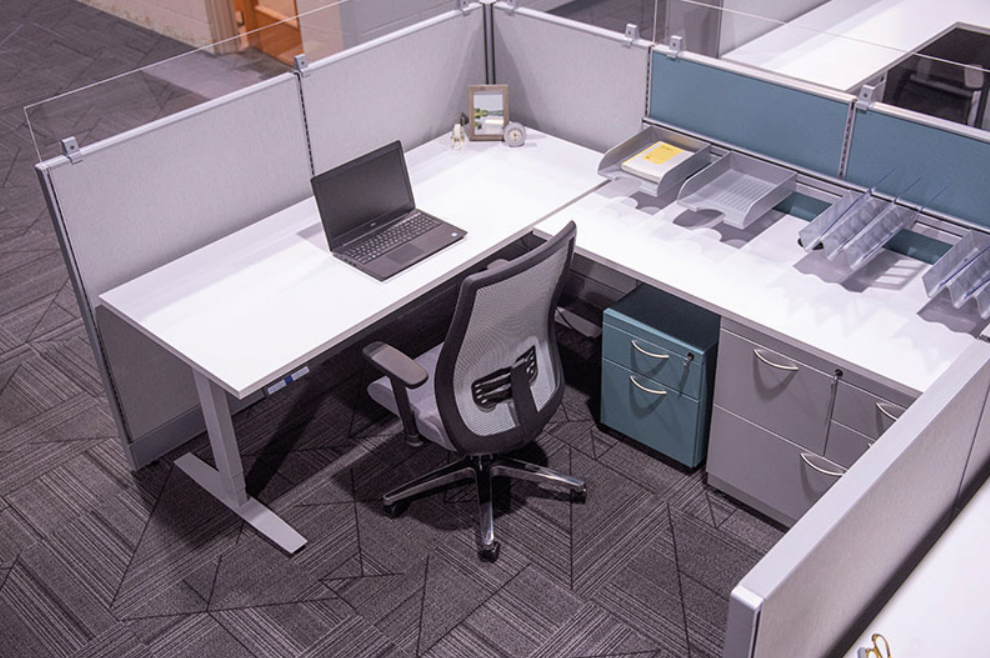 (Kentwood Office Furniture: EKOS station and remanufactured accessories)
On the other hand, when it comes to remanufacturing office furniture, we create a brand new product from the materials, sort of like recycling. This service includes tearing down the product, whether it's a chair, desk, or panel, and separating all the components. Every visible finish on the product will be transformed – fabrics are replaced, new paint is applied, and any plastic components are changed out for new. Essentially, everything that can be physically touched or seen on the item will be brand new.

In both instances, refurbished and remanufactured, there is sometimes a negative connotation attached to the language. Consumers often associate refurbished and remanufactured furnishings with "used" furnishings, or not of the same quality as newly manufactured items. There is also confusion around the terminology as other companies and manufacturers use both terms to describe services that may be similar in nature, but not of the same quality that Kentwood Office Furniture is providing – especially in terms of remanufactured products. When we remanufacture furniture items, we buy the products when they're available, strip them down, and warehouse them until we're ready to use them in future projects. Our process is streamlined to deliver the highest quality product at a lower cost than newly manufactured products. We ensure that the remanufactured office furniture our customers receive meets the Original Equipment Manufacturer (OEM) specifications for safety and function. To an untrained eye, there will be no differences detected between new products and KOF remanufactured products.
The Pros and Cons to Refurbished, Remanufactured, and New Office Furniture
Refurbished
Pros
Refurbishing furniture that you already own is most often the most economical price point and the quickest. This option is also a very good option for restoring furniture pieces that you don't want overworked, keeping iconic pieces intact, and maintaining the original materials and components. Another pro of refurbished furniture is that this is an environmentally friendly option for companies with a focus on sustainability.
Cons
There are several limitations to design and colors, and especially customizations. And trying to find matching options to furniture you already own will be very hit-or-miss. It can be difficult to be fastidious when trying to adhere to this option because of the limited availability.

Remanufactured
Pros
Remanufactured furniture can be a very cost-effective option in relation to purchasing new. The lead times for remanufactured items are also shorter in relation to purchasing new furniture. You are able to customize how you want and you're not limited to what is in the warehouse or available at the time of inquiry. There is more hands-on labor invested into remanufactured products versus refurbished, which leads to a noticeable increase in the quality of the finished product. There are several environmentally friendly and sustainable options available as well. Everything about the remanufactured furniture item will look and feel brand new.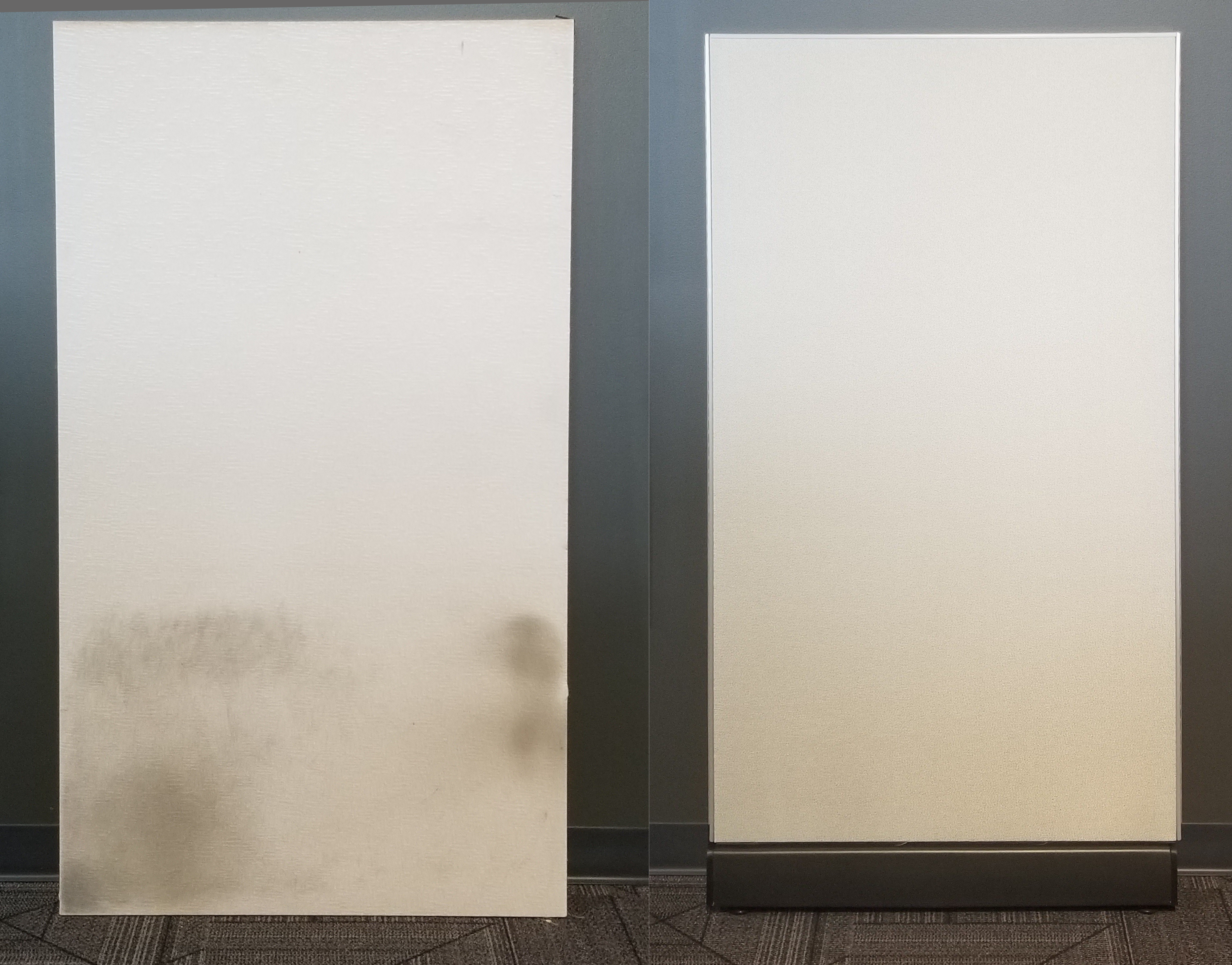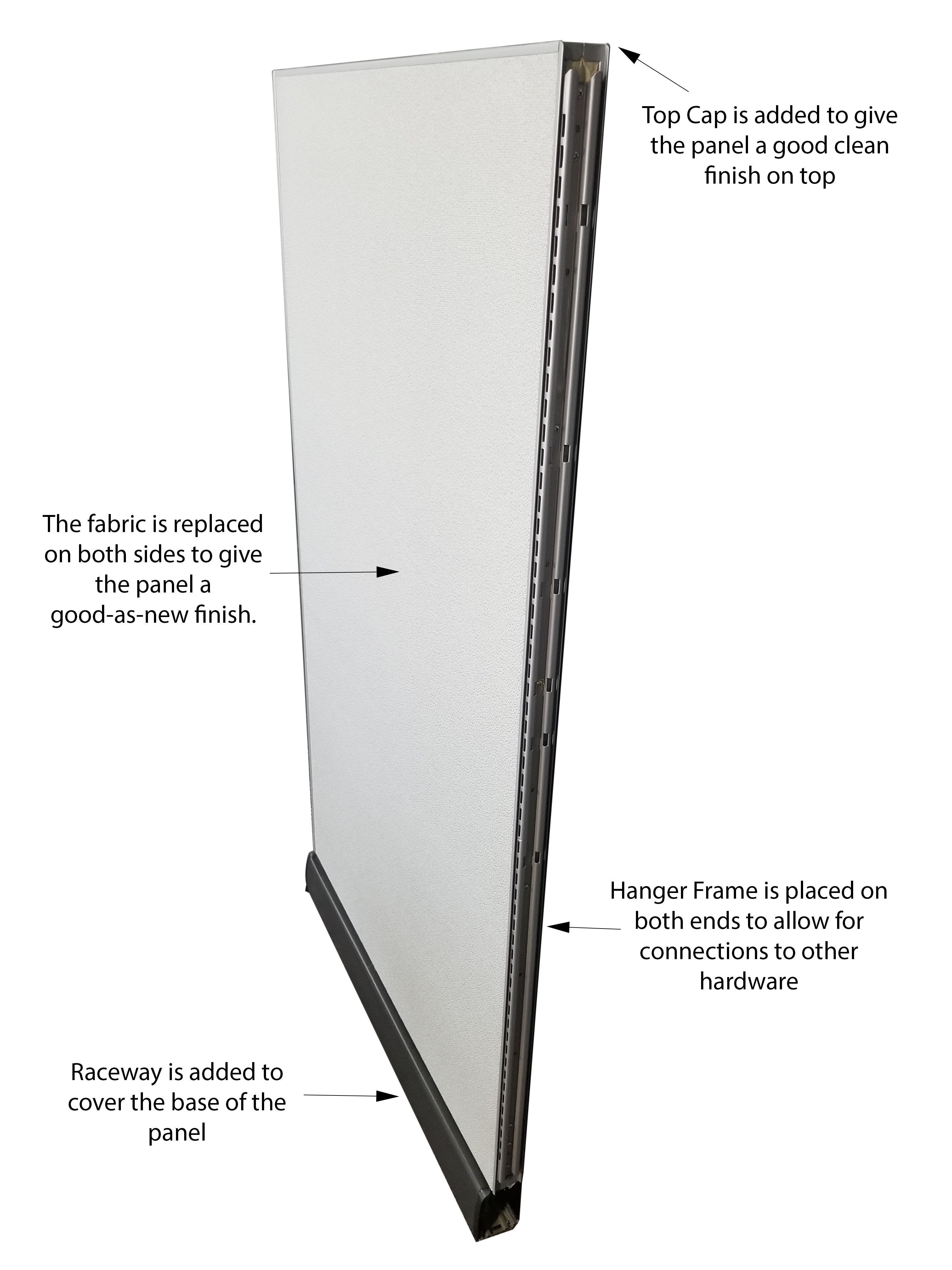 Cons
While the price point of remanufactured products places the option between refurbished and new, there are more finish options than refurbishing. Also, the lead time for purchasing remanufactured items is longer than that of refurbished items but remains ahead of newly manufactured products (and by a significant amount these days).
►Interested in seeing more remanufactured products? Check out this project we completed for Grand River Aseptic Manufacturing in Grand Rapids, MI.

New
Pros
Newly manufactured furniture comes equipped with the most flexibility, features, and various options – allowing you to choose from a wide selection of colors, styles, and finishes.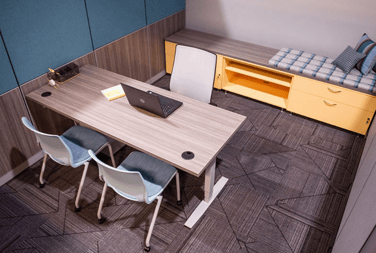 (Kentwood Office Furniture: HON Abound station)
Cons
Newly manufactured is guaranteed to be the most expensive option when furnishing a workspace, and the lead times are the longest of all the options.
So, which should you choose?
Unfortunately, even the most quality office furniture won't last forever and most commercial furnishings are designed to be replaced every decade. If your office furniture is outdated, lacking a collaborative design, or doesn't reflect your current brand image – it may be time to consider revamping or replacing your office furniture. As you consider refurbished, remanufactured, or new, it's clear that each option has its advantages and disadvantages. Whatever option you choose is highly dependent on the needs of your company, your budget, and how quickly you need new (or updated) furniture. Our expert design team at any of our six locations can help you figure out what option is right for your company and what kind of items your company needs. Contact us today!