Kentwood Office Furniture assists SBAM in building a sense of community between small business owners in the Kent region
Grand Rapids-headquartered Kentwood Office Furniture hosted the Small Business Association of Michigan's Kent Region Owner2Owner meeting, joining in their efforts to build a sense of community among small business owners through education, advocacy, and networking.
GRAND RAPIDS, MICH. – The Small Business Association of Michigan (SBAM) is a major pillar of support for small businesses, providing a wealth of opportunities and resources to help grow and sustain businesses. As a long-time supporter of small businesses, Kentwood Office Furniture is actively involved with organizations like SBAM to support the local community and economic development.

Kentwood Office most recently hosted SBAM's Kent Region Owner2Owner (O2O) meeting, joining in the association's efforts to build a sense of community among small business owners through education, advocacy, and networking. SBAM's O2O network is designed exclusively for small business owners across the state of Michigan. There were 40 small business owners in attendance Wednesday, Feb. 9, 2022.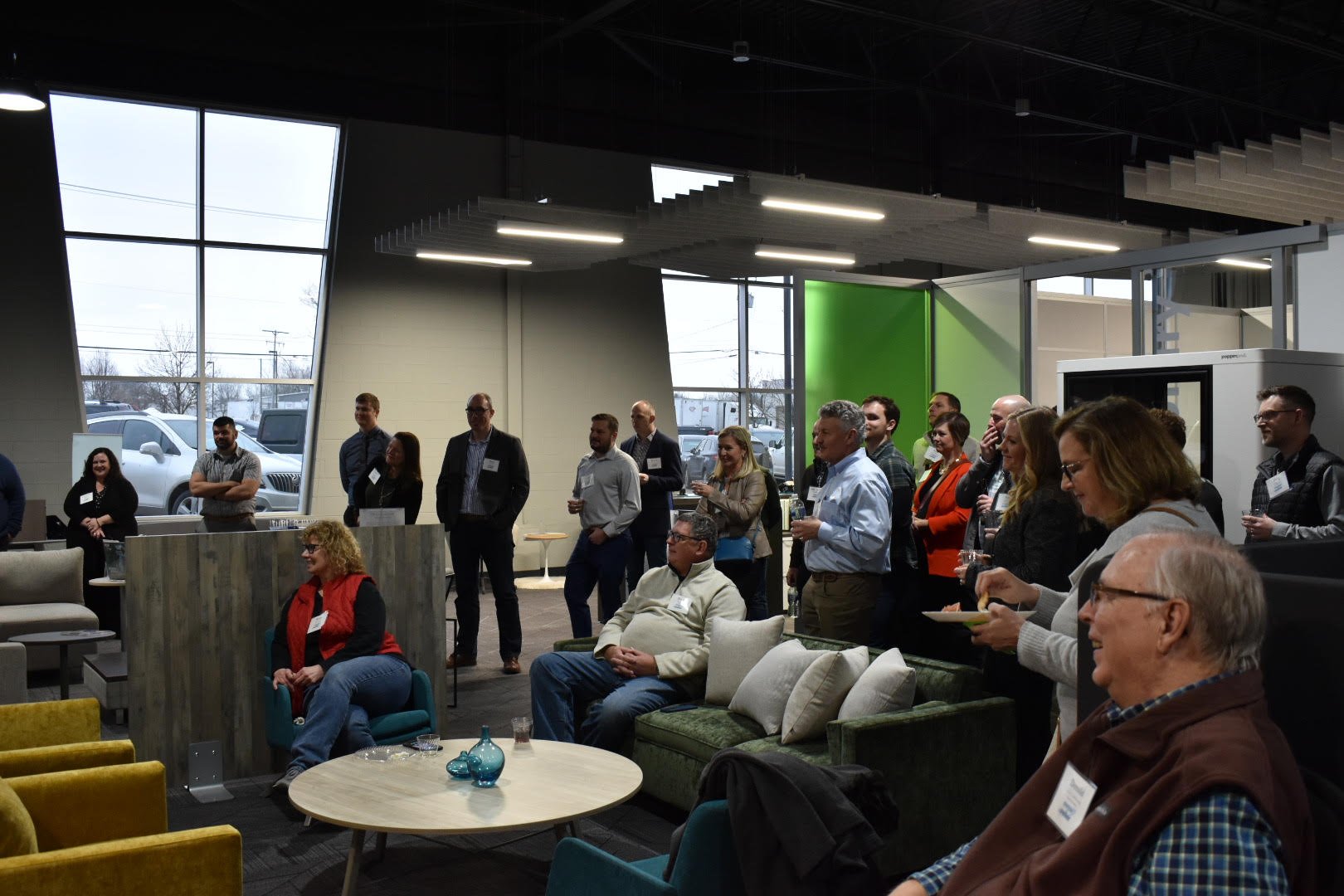 Pictured: Several Small business owners in attendance of SBAM's Kent Region O2O meeting Wednesday, Feb. 9, 2022.
"Small business owners don't have many options when it comes to events exclusive to peer-to-peer connection," explained Andrea Duguay, Director of Owner2Owner Member Engagement. "While being a small business owner can be lonely at times, the O2O network allows owners to build a sense of community and realize that they aren't alone. Each event is centered around a small business and as [Kentwood Office Furniture] has been supporting SBAM, SBAM wanted to continue supporting Kentwood Office Furniture."
During the pandemic, Kentwood Office renovated its headquarters, located at 3063 Breton Road SE. The Grand Rapids showroom served as the perfect location for the event, featuring more than 15,000 square feet of space devoted to demonstrating a wide array of work and collaborative settings.
"Small business owners are vital to Kentwood Office — these are the people and the companies that are the heart and soul of our economy," Bob Von Kaenel, President of Kentwood Office, said. Kentwood Office Furniture is a member of SBAM and Von Kaenel serves on the association's Leadership Council. "We are more than happy to jump at the opportunity to support them. We have a great space for an event of this caliber and we are always on the lookout for partnerships that align with our values."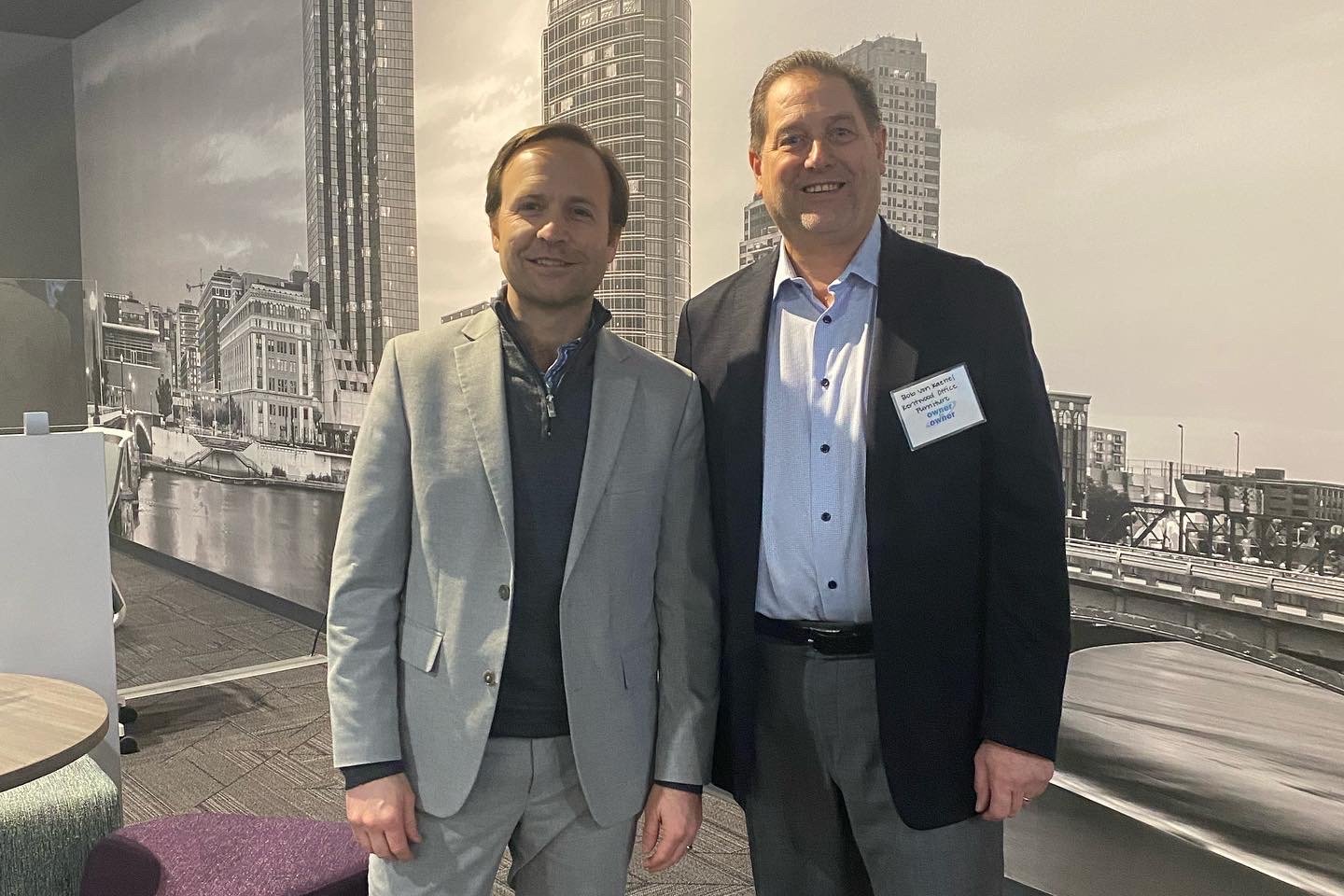 Pictured President of SBAM Brian Calley and President of Kentwood Office Bob Von Kaenel
"An event like the Owner2Owner meeting is just the beginning of our outreach to our customers and the community we serve." Von Kaenel explained. "We are a unique 100% employee-owned company who both manufactures and distributes world-class commercial furniture and interior solutions. We have built our business one customer at a time by developing tailor-made solutions which support their culture, fit their budgets, and delight their employees. On-time, complete, and guaranteed."

Learn more about the Kentwood Office Furniture Grand Rapids showroom and take a virtual tour of the space here. The Owner2Owner meeting series is open to all small business owners, regardless of SBAM membership status. To learn more about SBAM, how to become a member, and attend a future Owner2Owner meeting click here.

###

About Kentwood Office Furniture:
Kentwood Office Furniture is focused on providing an exceptional customer experience from start to finish. Kentwood is a full-service furniture dealership representing over 150 manufacturers of contract furniture and architectural products. Since 1976, we have provided our customers with a complete range of cost-effective, mid-market solutions. We work with companies of all sizes across a wide variety of environments including commercial, healthcare, education, and government sectors. Kentwood has six locations across the Midwest and serves customers nationwide. Our corporate headquarters is in Grand Rapids, MI with additional offices in Lansing, MI; Jackson, MI; Detroit, MI; Indianapolis, IN; and Chicago, IL.